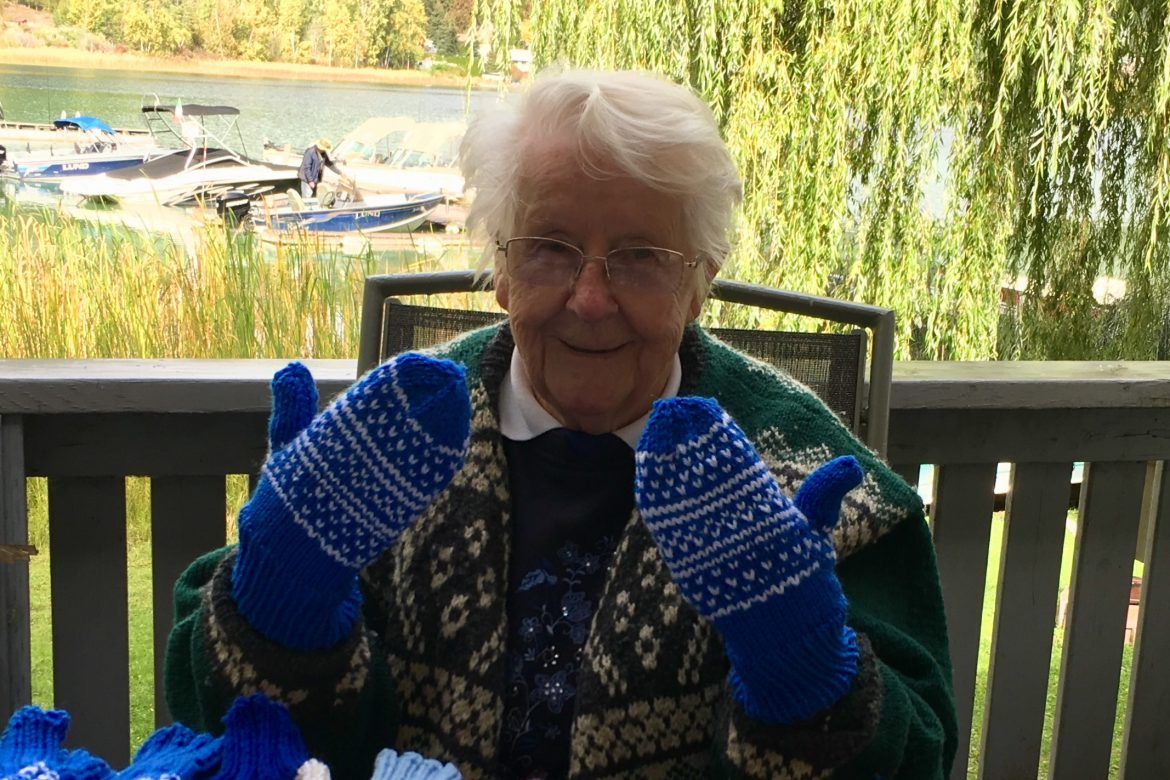 Meet Joan… she's part of our CommuKNITy!
The CommuKNITy Cares ministry is made up of many hands working together!  I recognize that you all participate in the ministry in various ways.  Some of you may simply read this blog while others are busy knitting mittens for the kids.  Some of you attend our classes and groups while others lift the CommuKNITy Cares ministry up in prayer.  I am so grateful for all of you! I thought on occasion it might be nice to unite our community and introduce you to some of your fellow participants.
Joan is a dear friend of mine.  Our friendship was formed about 6 years ago as we met on the dock at our fishing resort. I was cautiously dipping my toes in the cold lake water as she was donning her flippers and jumping right in!  Finally, on the count of three when I got the nerve to let go of the ladder, I spent the next hour getting to know Joan. We shared our life stories while treading water together.  We chatted about all sorts of things from her childhood years growing up in England to her years spent working as a midwife, riding her bike to and from her appointments.  She fascinated me as I envisioned her just like the characters on the series "Call the Midwife".  I had actually met a midwife just like on TV!
Our friendship has grown closer over the years as we spend our summer afternoons knitting and drinking tea or touring the Shuswap in search of new yarn.  Joan is always knitting for a cause and I am grateful that she has jumped on board the CommuKNITy Cares wagon.  Here are a few questions I asked her that might help you get to know her a little bit better.  I have no doubt you will be drawn  to her vibrant personality and enthusiasm just as I was that day swimming in the lake.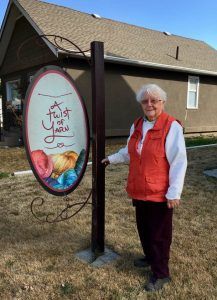 Tell me about yourself so we can get to know you better.
I am the last survivor of 11 siblings.  I spent my school years in a convent boarding school.  We were kept busy and had a good education.  Knitting was one of the many things I did to keep busy.
I trained as a nurse and followed up as a midwife.  I did one year as a school matron in a large boys college and then came to Canada.  
It sounds like you've been knitting for a very long time.  When did you start knitting for "a cause" and what groups are you currently knitting for or have you knitted for in the past?
I don't remember when I started knitting.  During the war we knitted for the armed forces and the prisoners of war.  That was a busy time!
I knitted 1000 bears for the Samaritans Purse.  They went into the Christmas boxes that the children make up every year.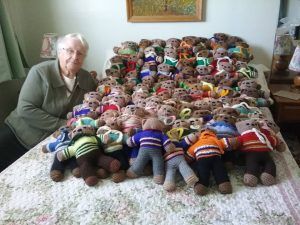 Right now I am making mittens for CommuKNITy Cares!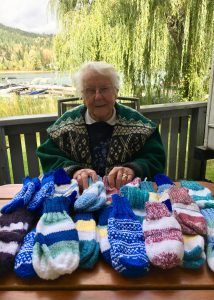 What made you decide to use your talent for charity work?
I just figured knitting for charity was a good thing to do.
What truly inspires you?
We had four children.  Knitting socks, sweaters, etc for them kept me busy.  Indian sweaters were a popular item at one time.  I just like to keep busy.
Do you have any closing comments that might encourage others to get involved with charity work?
Charity work is often done in groups so it is a sociable activity keeping a person in contact with others.  This is very important as one ages and the children leave home and the grandchildren grow up.  
Singing in our church choir keeps me in touch with the whole congregation and choir members.  I'm the only elder in the group!
Isn't she wonderful!  Just yesterday I received another box of mittens from Joan in the mail.  That brings us up to 798 pairs of mittens!  I am so thankful. When I started this ministry there were times when I was fearful that I would be doing it all on my own.  God is faithful though and has brought others along to help in His work.  I am so grateful for Joan and all of you that participate in this ministry.  You are a special part of CommuKNITy Cares!
He makes the whole body fit together perfectly. As each part does its own special work, it helps the other parts grow, so that the whole body is healthy and growing and full of love.  Epheisans 4:16 NLT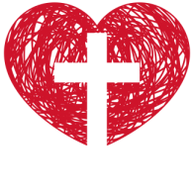 Blessings, Allison